Our PVC coated fabric products can be used on a wide range of applications and industries, today we will list some of the equipment that can be used to work and shape the project you may have in hands.
Since our standard measure of rolled goods is 5" by 158" (+/-) in order to manufacture your custom projects it´s necessary to join several pieces of fabric to make one tarp that covers a larger area (for example a truck cover or a canopy). With an irregular design such as an inflatable jumper or a contemporary tense structure there are welding tools and equipment that are utilized and will be discussed below.
Heat gun: This tool is used to seal the PVC fabric through the thermofusion principle applying heat and pressure (up to 1148°F/620°C) welding the pieces together. This is a great tool to work with especially for repairs and tuning of small details during installation because of its manageability, reliability and versatility. It´s also great to use because it comes with an ergonomic handle that facilitates its grip and mobility thanks to its reduced weight. Some other uses for the heat gun are: molding, activation, drying, retraction, as well as removing paint, lacquer and adhesives from the surfaces before being worked on.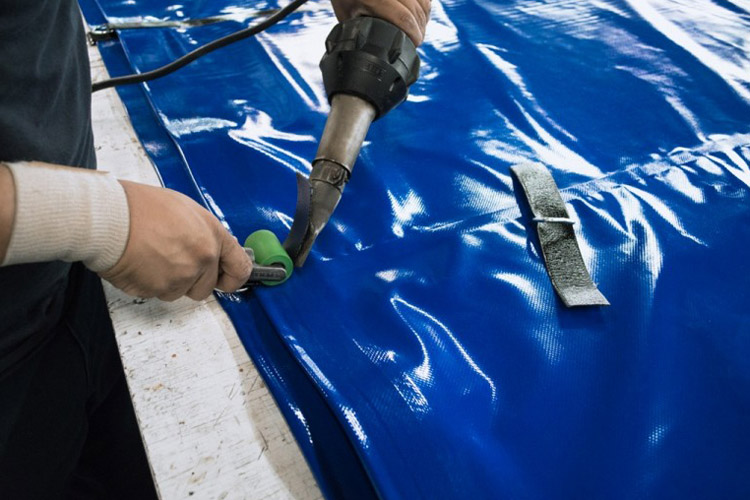 Welding machine: This tool also works by applying heat (up to 1292ºF/ 700ºC) to the PVC fabric, in this case due to its design and mobility it provides a higher capacity to make and repair bigger projects like banners, tarps, tents, curtains, tanks, pool and patio covers, as well as tensile structures and its finishes like overlaps and hems. Its main benefit is improved productivity and workflow since the number of parts produced increases and lead times, labor and material waste are significantly reduced. Optimal for the printing, construction and civil engineering industries.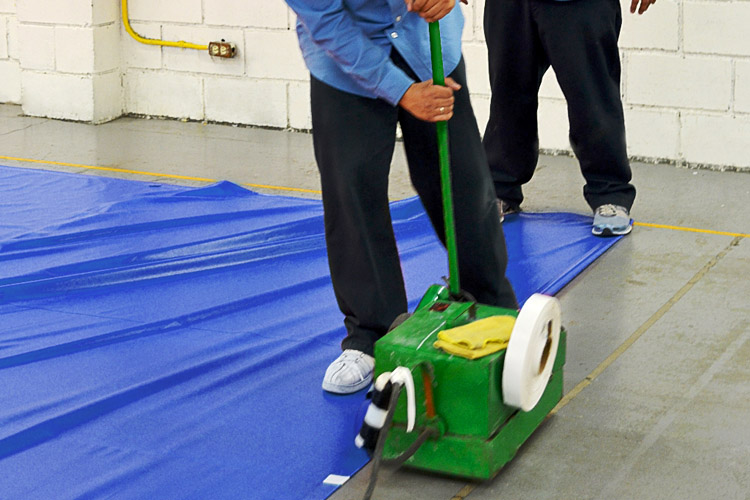 Stationary welder: A robust stationary machine that is usually installed in a workshop for long term use, it also works with heat (up to 1382ºF/ 750ºC) and will provide higher production capacity making it perfect for a mid size business with a variety of products with various thermoplastic fabrics such as PVC, PE, PP ECB, PU and acrylics to shape into finished products like banner ads, bigger tarps and tents, machine covers, water or fuel tanks and different inflatable games and replicas. Inspired by the functionality of an industrial sewing machine, different models and brands can provide their own settings like a straight or curved seal giving the user the final choice for the one that best suit their needs.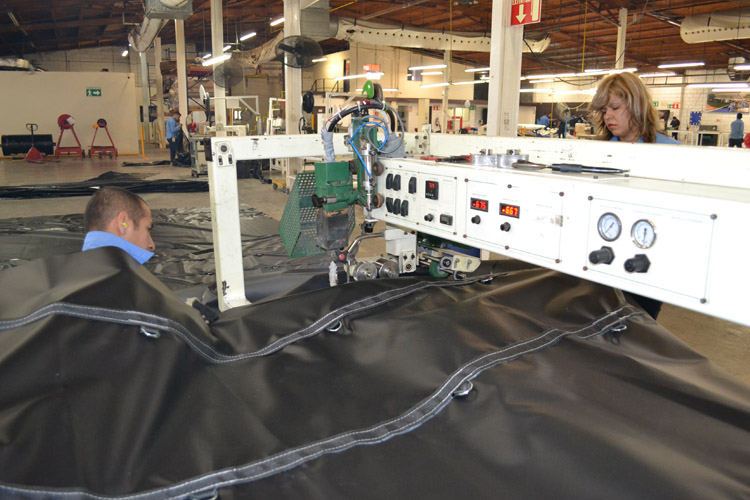 Radiofrequency welding machine: Also called high frequency it provides a completely different finish than heat welding since the process it's very different. This machine works with and electronic circuit that transmits a high frequency oscillation on an electric field alternating at high speed, the oscillation heats thermoplastic molecules evenly to a melting point making them fuse completely after applying pressure and then cooling the materials resulting in a finished product that will be 100% waterproof with an air-tight seal, flexible and with an impeccable visual finish while giving a higher stability, resistance and durability to projects with high climate exposure. Another advantage of radiofrequency is being able to penetrate thicker materials or with multiple layers and adapt to different molds to cut custom margins when needed. Some industries that benefit from this process are: automotive, medical, entertainment, stationery, fashion and household.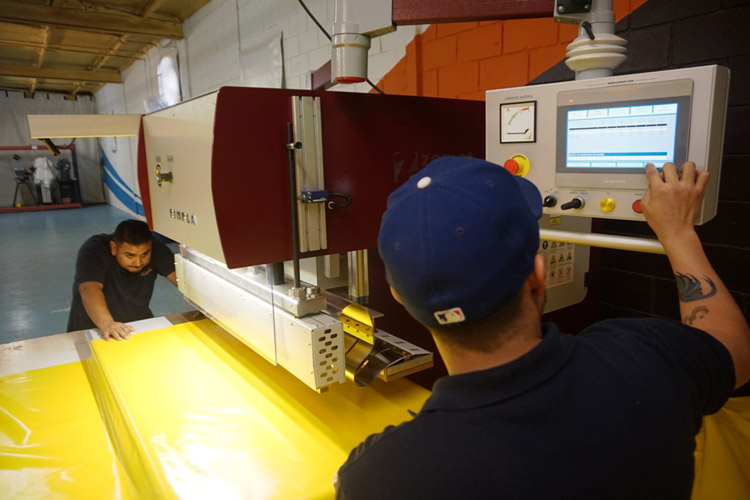 Seeking to be on top of our business, Plastic Fabrics Solutions works with all the mentioned types of welding on our production processes for the different projects required by our customers depending on the level of detail needed for each one. We also take into consideration finishing times and our own production schedule with your best interest in mind. It is of the outmost importance for us to keep researching and improving our in-house developments with new technologies to guarantee complete satisfaction to the final user for every solution we provide to the different industries.