Plastic Industrial Curtains allows to create partitioned spaces in warehouses and other workplaces.
Industrial curtains are easy to instal, help you control temperature in your workplace, protect employees from debris, and act as a physical barrier.
They are a cost conscious decision of dividing workspace space in your facility, without incurring in a costly construction costs.

FLEXIBILITY AND ADJUSTABILITY
Remain static or roll up when necessary.

QUICKLY INSTALLATION AND REMOVAL
Minimum hardware required for Installation

COST EFFECTIVE
They are less expensive than concrete solid walls.

DUST AND SPRAY CONTAINMENT
Avoid the dispersion of dust out of an area.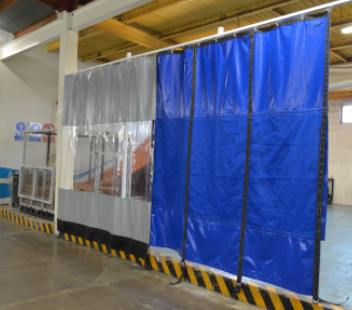 Curtain Walls
Welding Curtains
Dust Collector
Food processing plants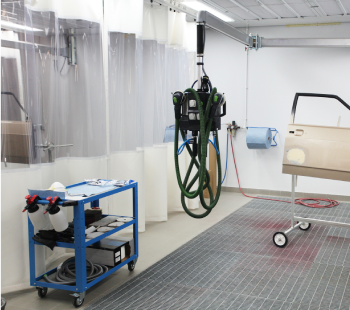 Paint booth
 Wash bay curtains
Wind barrier
ONLINE INDUSTRIAL CURTAIN CONFIGURATOR
On our online store we have provided an industrial curtain configurator that allows you to choose the characteristics you need under the following options:
Curtain Layout & Dimensions
Choose PVC Coated and Clear Vinyl
Color and certified additives
Hardware and tracks
Industrial Curtain's additional features
 At the end of the configuration process it provides a quote and the option to purchase online.
For curtains with more specific characteristics you can contact us through our contact form: https://tarps.plasticfabrics.com/ or call us to our toll free 866 973 7185 in our business hours Monday to Friday 7:00 to 17:00 Pacific Time.